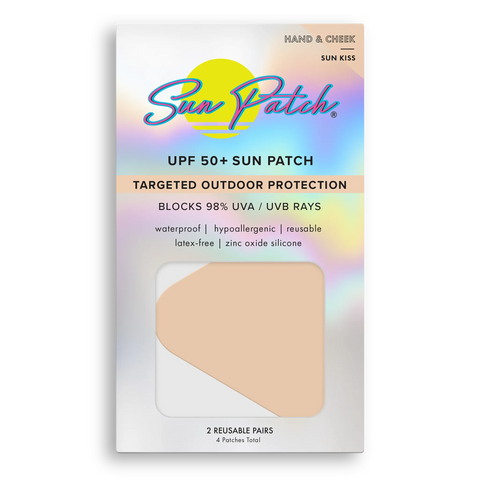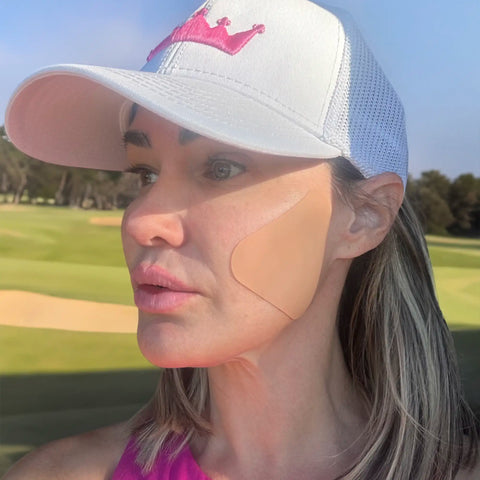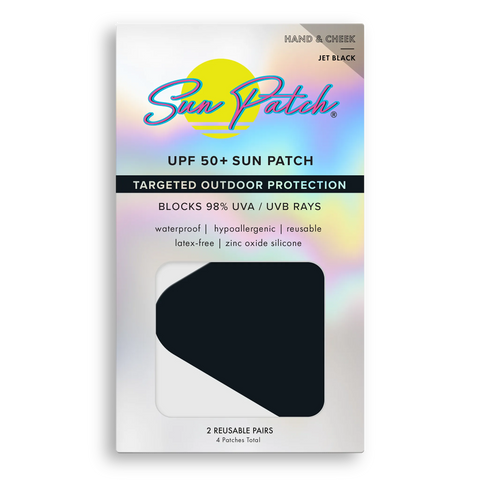 Sun Patch
Hand + Cheek UV Protection
Show more
Introducing Sun Patch Hand/Cheek UV Protection! The larger cheek patch you've been asking for is here and it's doing double-duty to safeguard your hands too!
The skin on our hands is extra thin and delicate making it extra vulnerable to aging, sunburn, or sun damage. Sun Patch Hand/Cheek UV Protection is here to provide the ideal safeguard for these sun-sensitive areas with its cutting-edge features:
Comprehensive UV Defense for Hands and Cheeks: Sun Patch Hand/Cheek UV Protection offers unmatched sun defense, effectively blocking 98% of both UVA and UVB rays throughout the day. With Sun Patch you can worry less about aging, sunburn, or sun damage, and enjoy your days in the sunshine.
Protection for Delicate Skin: We understand that the skin on your hands, especially during activities like driving, and your cheeks when you hit the slopes, needs special protection. Sun Patch Hand/Cheek UV Protection is designed to cater to these specific areas, ensuring they receive the attention they deserve.
Waterproof and Rub-Resistant: Whether you're driving with your hands exposed to the sun or enjoying the great outdoors, our innovative design ensures that our protection stays in place. It's both waterproof and won't rub off, providing reliable, long-lasting coverage where you need it most.
Patent-Pending Material: Sun Patch Hand/Cheek UV Protection is crafted with a patent-pending material that combines the qualities of high-quality silicone, a favorite among medical professionals, with the benefits of zinc oxide. This ensures not only optimum sun protection but also comfort and durability for your hands and cheeks.
Make the smart choice to safeguard the delicate skin on your hands and cheeks from the sun's harmful rays. Sun Patch Hand/Cheek UV Protection is the superior choice for those who demand comprehensive and effective protection while engaging in daily activities and outdoor adventures.
Don't compromise the health and beauty of your skin – choose Sun Patch Hand/Cheek UV Protection and enjoy life's moments with confidence!
100% Silicone
Favored by plastic surgeons and burn units for it's ability to act as a second epidermal layer and protect the skin, we infused our high-quality silicone with zinc-oxide for the ultimate UV protection.

Blocks and impressive 99.8% of UVA/UVB rays
Designed for sensitive skin and latex-free

No animals were used or tested on
Rinse with warm water and let air-dry to reactivate adhesive gel.
Clean, Dry Skin
Peel + Stick
Sunscreen + Go!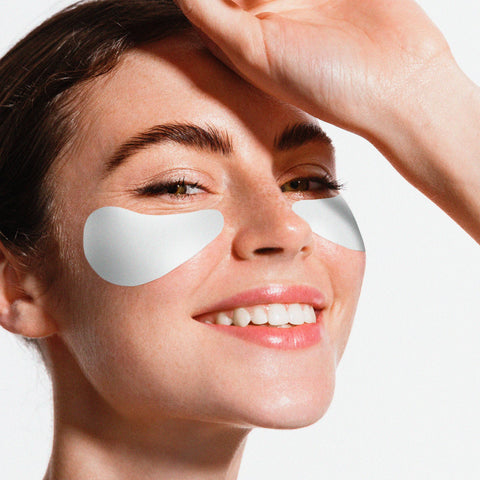 FAQ
Common questions. Honest Answers.
Sun Patches were designed for everyone at any age! With skin cancer and sun-sensitivity on the rise, we needed more options.Think of us as targeted UV protection for areas that need it most!
I have very sensitive skin
Yes! The adhesive that gives our patches their stick is made with 100% biocompatible silicone gel that is hypoallergenic and latex-free! It locks in moisture and actually prevents water-loss from the skin!
How is this better
Than using sunscreen alone?
Sun Patches are waterproof and only need one application for 50+ UV protection all day. We're reusable, and won't rub off so you can enjoy the sun and not worry about areas prone to sun burn, sun sensitivity, or skin cancer.