SHOP SUN KITS
GET OUR HOLO BAG FOR FREE WITH YOUR PURCHASE
LOVE THE SUN.
BLOCK THE DAMAGE.
/
Sun damage is no joke.
With UV related skin conditions still on the rise, we need more options!
Sun Patch is a targeted waterproof sunblock patch that won't rub off and blocks UV rays all day.
-
All with one simple reusable patch.
ELEVATE YOUR SUNBLOCKLAGUNA BEACH, CA
SUN PATCH IN ACTION
Use UV Protection Stars for ultra-targeted spot coverage.
Before
After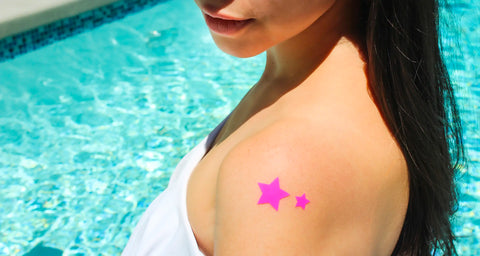 Testimonials
Real Reviews from AMAZON
WOW! If I could give this product more than 5 stars I would. I bought these for a beach vacation with friends and we were all obsessed. Not only are these super cute, but they're also very lightweight and keep you protected from the sun all day! Can't wait to try out some of the other colors.
Fantastic product! My kids love it! We used the patches for protection during long summer beach days, and are looking forward to trying them out for skiing in the winter. Will definitely order more! 💗☀️💗☀️
Love these! My girls love them! Overall win. My husband is a dermatologist and recommends them to all his patients.

Great for Sensitive Skin!

Your face will thank you.

Beach and pool days just got easier.

Warmer weather should mean eating lobster rolls not looking like a lobster.
Many people have sun-sensitive areas that are prone to sun burn no matter how many times they reapply sunscreen.
Our patches are also perfect for covering hyperpigmentation, melasma, areas affected by skin cancer, scars that are healing, skin that is sun-sensitive due to skincare treatments, preventing signs of aging and more!
Designed for everyone at any age.
Do I still need to wear sunscreen?
Yes! We love sunscreen, but every hero has its limits.
Sunscreen is only water-resistant and needs to be reapplied often which can be a hassle for areas that need consistent sun protection.
Sun Patches are waterproof and only need to be applied once. Shop our collab with Naked Sundays for kits with patches AND SPF!
What is the benefit of silicone?
Silicone is the preferred material by doctors and plastic surgeons for protecting/healing the skin.
Silicone acts as a second epidermal layer, locks in moisture by preventing water loss, and is safe for the most sensitive skin.
What makes Sun Patch different? We added Zinc Oxide so our patches block 99.8% of UVA/UVB rays.
Why is Sun Patch better than sunscreen alone?
For areas more prone to sun exposure and damage, reliable protection is so important.
No sunscreen is waterproof (only water resistant) and needs to be reapplied often. Sun Patches are the only waterproof sunblock that won't break down in the water or sun and maintain their UPF 50+ rating all day with only one application.
Secure Checkout + Checkout Express
Free Standard Shipping on All Orders. Spend $20 for Free 2-Day Shipping.

30-Day Money Back. No Questions Asked.

Manufacturing and Shipping Made Carbon Neutral with EcoCart.